Description :
SAFe 4.5 – 2018.
Update : je suis certifié 🙂 à 96%.

---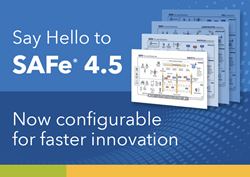 SAFe® is an online freely revealed knowledge base of proven, integrated patterns for implementing Lean-Agile development. It provides comprehensive guidance for work at the Portfolio, Large Solution, Program, and Team Levels. Our core belief is simple: Better systems and software make the world a better place. We assist those who build these systems through development and publication of the Framework, as well as certification, training, and courseware.
As you can see from the Case Studies, we are pleased to report that many enterprises—large and small—are getting outstanding business benefits from applying SAFe.
These typically include:
10 – 50% happier, more motivated employee
30 – 75% faster time-to-market
20 – 50% increase in productivity
25 – 75% defect reduction
As you can imagine, with results like those, SAFe is spreading rapidly around the world.
Over 70 percent of the Fortune 100 US companies have certified SAFe practitioners and consultants already on-site. We also have an extensive network of 145+ global partners providing consulting and implementation services in almost every region of the world. And while every business situation is unique, we have found that the new Implementation Roadmap always delivers results.
For more on SAFe, please browse the site and subscribe to the blog feed, where we will notify you of new developments. Also, check out Resources, where you can find free posters for the Big Picture, the House of Lean, and SAFe Lean-Agile Principles.
You'll also find SAFe videos and recorded webinars, free presentations, and more. Finally, be sure and check out our corporate site at ScaledAgile.com. Even better, attend Training and Certification; perhaps I will see you there.
Our commitment is to continuously evolve SAFe to provide value to the industry—better systems, better business outcomes, better daily lives for the people who build the world's most important new systems—but only you, the adopters and practitioners, can tell us whether or not we have accomplished that.
The sections below provide more details on SAFe 4.5 as well as the history and status of some prior versions. Stay SAFe! —Dean and the Scaled Agile Team
Read more at: http://www.scaledagileframework.com/